Water Stewardship
What difference can a single farmer make?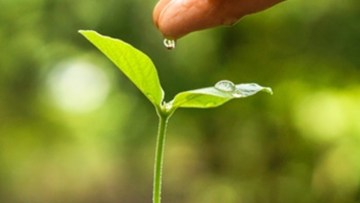 Responsibility along the value chain
We believe that our responsibility begins with identifying and developing opportunities for product improvement and searching for innovative solutions. Our efforts range from developing new products and technologies that enable us to use available resources, especially land and water, as efficiently as possible, to offering training to promote good crop protection practices.
We also collaborate with governments and other stakeholders to identify potential for synergies on stewardship, all with the goal of contributing to a promising and sustainable future.
Water is an essential resource both for humans and the environment, and its protection and conservation is one of our main concerns. Pressure from society and legislation to further reduce contamination of water bodies with crop protection products is increasing. We act on these legal requirements and aim to achieve even higher standards. However, in order to reach these, we depend on your help.
At BASF we see a great opportunity for the reduction of water contamination by adopting practical measures that decrease farmyard and field pollution. We are actively involved in several water protection networks and initiatives that provide expertise and promote best practices for all professional users of pesticides.
You count – everyone is a role model
There are plenty of ways to get involved and contribute to a more sustainable use of resources, and many of the measures we are working on are inexpensive and simple to implement. Most importantly, the impact you achieve will be multiplied as you act as an ambassador for sustainable agriculture and encourage your colleagues to follow in your footsteps.
Avoid point pollution sources from spillages, sprayer washing, and remnants. Whenever possible, clean your sprayer inside and outside in the field, more than 10 meters away from water bodies and wells.
If your field borders on surface water use drift-reduction nozzles and respect at least 5 meters of permanently vegetated (untreated) buffer strip zone alongside surface water bodies.
Be aware of fields with high runoff risk: take measures to minimize runoff from fields and avoid pesticide use shortly (> 48 hours) before heavy rainfall (> 5mm).
Avoid application of plant protection products on drained land shortly before (>48 hours) rainfall, and when drains are flowing.